Our Deputy Downunder Correspondent , Ivor Wilkins, checks in with this photo essay from a team gathering in Auckland this (Tuesday) evening....
The occasion was a farewell for the team organised by Mark Gilbert, Chief Executive of BMW New Zealand. Friends and family gathered at the Pontoon Bar on the Auckland waterfront for a pleasant get-together and to watch a slide presentation of the Auckland sailing sessions compiled by photographer Gilles Martin-Raget.

The mood was upbeat after a great Auckland sailing session where the weather has provided a perfect range of conditions for preparing for Valencia. In the final week of sailing, the team has already far exceeded the sailing schedule, thanks to no days lost to unsailable conditions.

Mark Gilbert bade farewell to the team. "It has been great to have the team sailing here in Auckland," he said. "We are now getting to the business end of a very long campaign. I have been greatly impressed with a team of people that live and work so closely together 24/7. The ability afterwards to gather at a function like this and talk about life indicates to me that there is tremendous passion in this team to win and to represent their sponsors in the best possible way."

Skipper and CEO Chris Dickson responded with a heartfelt thanks to Mark and the New Zealand BMW team for being part of the family, and for going the extra distance to help make the team's session in New Zealand so successful.
--Ivor Wilkins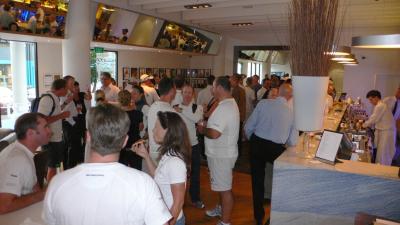 Tonight's farewell for the team at the Pontoon in Auckland, kindly organized by Mark Gilbert, CEO of BMW New Zealand.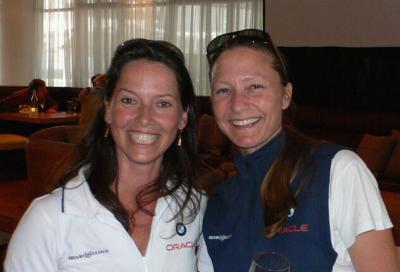 Kristen Sneyd (NZL, admin team) and Aimee Daniel (USA, sailing team admin).
BMW NZ's Leslie Acutt with crew manager and sailing team member Craig Monk (NZL).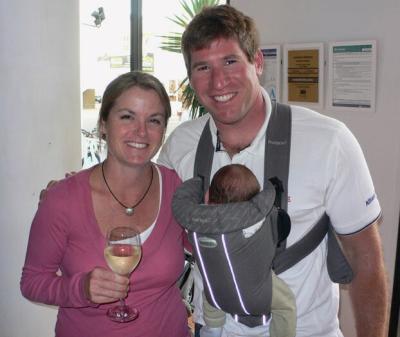 Heidi and Jon "Z" Ziskind (USA, sailing team) with new son Crue.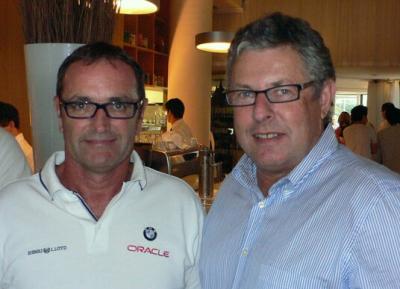 Business Director Russell Green (NZL) with BMW New Zealand CEO Mark Gilbert.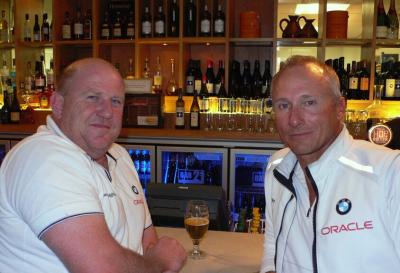 Mark "Tugboat" Turner (NZL, boat construction manager) with Skipper/CEO Chris Dickson (NZL).