First a bit of a maritime milestone, brought to you by our timing partner....
Seafaring and watch making have enjoyed a long, shared history. For many years now, GIRARD-PERREGAUX has been celebrating John Harrison's invention of the maritime chronometer in the 18th century.

The inability to determine a ship's exact position at sea posed major problems not only for the British Navy but for all its rivals as well. For centuries, sailors had been able to calculate their latitudinal position at sea by observing the stars. Longitude, however, proved to be a much thornier dilemma. That was why the British Parliament launched a contest in 1714 with a grand prize of £20,000 (the equivalent of several million today) for the ingenious person who could come up with a practical, workable solution to the problem of determining a ship's longitude at sea with reasonable accuracy.

The winner of this contest, with a solution based on accurate chronometers, was watchmaker John Harrison, who won out over scientists and astronomers. The partnership between seafaring and watches had been established.
Speaking of milestones, one was achieved Downunder this (Thursday) evening as
Girard-Perregaux
was officially launched in the NZ marketplace by GP's Steve Rom at a function hosted by
Team McMillan BMW
in Auckland. In NZ, GP is being carried by
Partridge Jewellers
. Earlier in the day, Mr Rom had been the VIP "18th crew" aboard USA-71, which suffered some damage to her mast [
story
on our
main team website
].
This evening Steve took some good-natured teasing from the team about being the only change on the boat from past days, so obviously it was his fault! Of course it wasn't, and regardless he was impressed enough with the day's experience, and especially the seamanship of 71's crew in handling the situation, that tonight he offered his own
very
expensive Girard-Perregaux watch in a bet that BMW ORACLE would win the Cup. Our sources did not report whether he had any takers. ;)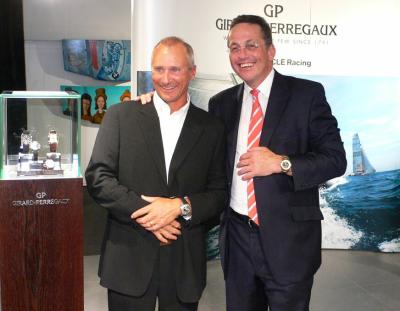 Dicko and Australasian entrepreneur (and head of the Girard-Perregaux brand Downunder) Steve Rom, in Auckland this evening at Team McMillan BMW for the launch of GP in NZ.