BMW NZ was a sponsor of the 420 Worlds hosted in Takapuna (on Auckland's North Shore) last month. In special recognition of the effort by everyone involved in hosting by what all accounts was a great event, our team offered an 18th man slot for the prizegiving. The winner was drawn by lot from from among the NZ sailors who competed in the Worlds.
Adrian Short, 17, of Warkworth (one hour up the coast from Auckland) was the lucky winner. Adrian enjoys match racing and has competed at the
Governor's Cup
(which, by the way, Gavin Brady won in 1990), an international youth match racing championship held at Balboa YC in California. A sailor since age 11 when he started in the Starling class, Adrian was thrilled at the chance to be on board an America's Cup Class race boat. "It was great seeing really good sailors in action and having a good look at the boats."
You have to wonder if the photo below, in the same vein as the famous shot of teenager Bill Clinton meeting President John F Kennedy, will someday show up on the website of an AC team of which Adrian is a member....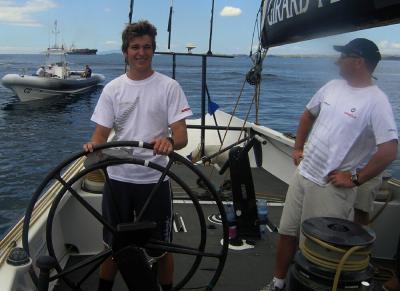 Special moment: One of the 58 young Kiwis competing at the 420 Worlds at Auckland in January, Adrian Short took his sail with the team last Saturday. How many kids get to go as 18th crew on an ACC yacht, let alone steer it with one of his sailing heroes, Gavin Brady (NZL), serving as tactician?