This evening is your last chance in 2006 to catch Peter "Pedro" Isler (USA, sailing team) live -- on stage again tonight at the Teatre Ves, his third appearance there. If tonight's gig is half as much fun as the last two it will be a great evening. One hears that,
otra vez
, a few AC friends will sit in with Pedro for a song or two, including our own Jane "Dylan" Eagleson (USA, media relations). She sat in during the first gig to wide acclaim, and also joined the jam session with Pedro and others at the team farewell party on Friday evening. So expect her to be in top form as well.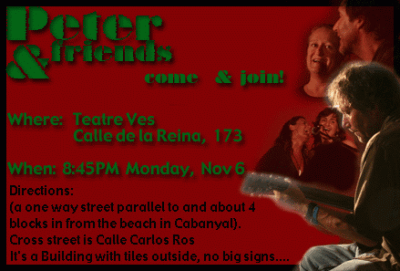 Please join us if you can. No cover charge, all AC family and friends are welcome.