The Allianz Cup is still generating nice ink. From today's Vallejo (California) Times-Herald, a story about umpire and sailing coach Susan Arms....
Cal Maritime instructor is crazy about sailing, from racing to umpiring
By ROBERT MCCOCKRAN, Times-Herald staff writer
Article Launched:11/06/2006 06:35:48 AM PST

Susan "Charlie" Arms loves sailing. The director of sailing and varsity offshore sailing coach at California Maritime Academy was with her team this past weekend in Annapolis, racing in the Intercollegiate Offshore Championships.

She has plenty of experience in competitive sailing, and is world ranked in match competitions. Last month, she umpired at the Allianz Cup presented by Oracle, the only U.S. event on the World Match Race Tour.

Arms, 42, of Vallejo, said the umpiring team consisted of an international group, many of whom judge at the America's Cup.

"I got into umpiring, which is the on-the-water judging of events, because as a match racer, who was getting umpired, I kind of wanted to know what are the umpires looking at (and) what's happening in their realm," Arms said.
Full story
What the story did not say, was how tough the event was for the umpires -- given four days of light, fluky air, cross currents, and very close competition. I do not have the actual ump call/penalty statistics, but suffice to say there were plenty of calls. After the event most of the racers I spoke to thought that the international ump team led by David Tallis (AUS, also a member of the AC 32 ump team) did a commendable job. Overall, certainly that was our view from the commentary booth.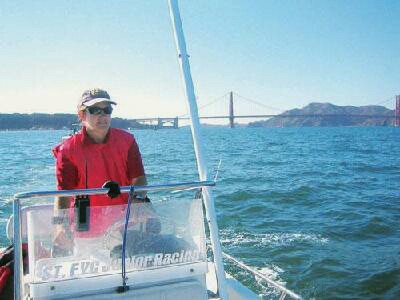 Member of the Allianz Cup umpiring squad, Susan "Charlie" Arms aboard one of the St Francis YC junior sailing whalers that were pressed into service as umpire boats last week. During that event Susan was also blogged here on the BOB, albeit the back of her head, in
this story
.