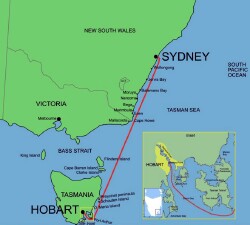 Over the past 61 years, the Sydney-Hobart has become an icon of Australia's summer sport, ranking in public interest with such national events as the Melbourne Cup horse race, the Davis Cup tennis and the cricket tests between Australia and England. One of the two or three most prestigious ocean races in the world, no yachting event today attracts such huge media coverage -– except, of course, the America's Cup and the Round the World Race.
Congrats to BMWOR's design coordinator Ian Burns (AUS) and sailing team member Rodney Daniel (AUS) who raced aboard first-to-finish (second year in a row)
Wild Oats XI
in last week's 630nm "bluewater classic."
They were champs on shore as well. At the 2 January prizegiving it was announced that the
Wild Oats XI
crew had clubbed together to donate AUD$ 2,000 for the cancer fund-raising being carried out during the race by British skipper Michelle Colenso, who's Oyster 55
Capriccio of Rhu
won the Cruising Division. Mid-way through a round the world cruise Colenso was diagnosed with breast cancer and she competed in the Sydney Hobart despite being mid-way through her chemotherapy treatment.
More at the Sydney-Hobart Race
official website
.
Wild Oats XI leading the fleet out of Sydney Harbour soon after the start on Boxing Day (26 Dec).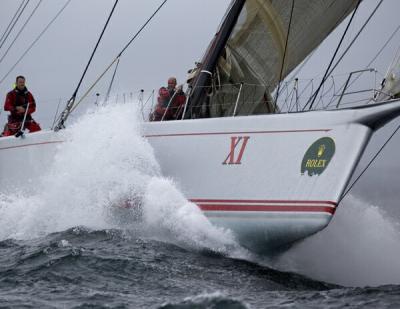 On board Wild Oats Fresh normally pulls navigating duties. Contrary to earlier reports, that is not his polished dome pulling on a halyard at the mast, but Tim Wiseman who, one hears, is often mistaken for Fresh -- hopefully only in photos like these, not in the pubs.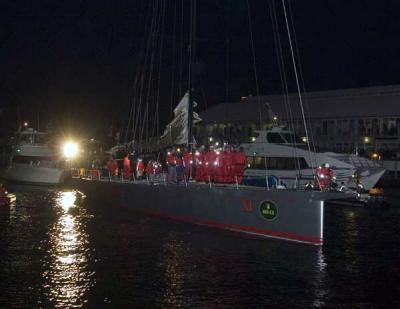 Line honours: WO XI was first to arrive into Hobart with an elapsed time of 02:08:52:33.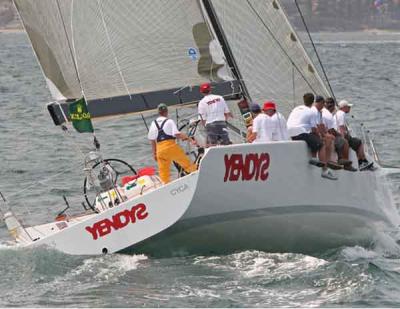 David "Ratty" Blanchfield (AUS), David "Brookie" Brooke (NZL), Noel "Nitro" Drennan (IRL) and Phil "Blood" Jameson (NZL) raced on 4th to finish and IRC Class B winner Yendys. Yes, that's Sydney backwards. Ratty was integral in making it all happen, not only as boat captain but in recruiting the other BMWOR sailors. We can make out Blood sitting on the rail forward, far right above.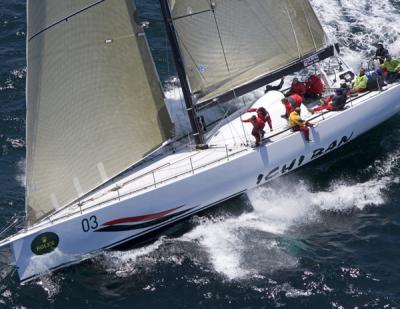 One hears some of our guys may have been racing on Ichi Ban, which was second to finish and won IRC Class A. As always, any help from those in the know would be appreciated.