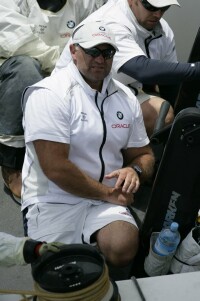 From the New Zealand's
Sunday Star Times
, a nice article by Greg Ford on sailing team manager Craig Monk (NZL)....
Yachting's Monk makes habit of calling Spain home
Kiwi sailor Craig Monk feels like a visitor when he's in his home town, Auckland.

He has been on the road for so long now, chasing his America's Cup dream, when asked where home is he answers "Spain".

"I have been trying to get out of this job ever since I got into in back in 1995," he jokes.

It wasn't always that way.

Monk was part of the victorious New Zealand America's Cup challenge in 1995 and the defence off Auckland in 2000.

He defected to OneWorld in 2003 and jumped ship again when the Larry Ellison-owned Oracle syndicate came calling. More than 50% of Oracle's sailing team, who wear the stars and stripes, are New Zealanders.

It's a staggering stat, which Monk takes some pride in.

He still has the trademark physique - giant shoulders and tree trunk arms - which signpost the fact he's a grinder.

But these days he carries a clipboard and strapped to his belt is a phone.

Yes, he has moved into management and played a part in the strong Kiwi influence in Oracle.
Full story