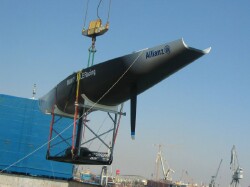 By Kimball Livingston
If the sailors have their way, we could see a very different America's Cup in the future. First we have to get through America's Cup 32, next year in Valencia.
And then?
During the Allianz Cup, a World Match Racing Tour event sailed in October on San Francisco Bay, America's only America's Cup challenger, Larry Ellison, sat behind a microphone and went public with thoughts that are buzzing among all the Cup teams that will be racing in 2007. Power players at Alinghi and other camps too are thinking along the same lines as Ellison, who said that he'd like to see Cup racing, "follow more closely what they do in Formula 1; we'd have a regatta in Cup boats in San Francisco every year, one in Newport, one in Germany, one in Italy; regattas that people and sponsors could count on, to have some regularity."
Of course that's a merely-for-example list of venues. The goal would be to tame the monster unloosed in 1983, when Australia II broke the longest winning streak in sports history and removed the racing from its comfy cloister in Newport, Rhode Island. Each Cup cycle since has been an adventure. Remember the dramas of overhauling Fremantle, Australia to host the next match? Remember the traumas (too much to describe) of the 1988 races in San Diego? Each cycle has charted new waters and new shoals, while the teams have morphed into fulltime business ventures craving "regularity."
BMW Oracle employs about 150 people. The software company and the car company represent most of the cash backing, but let's think about the watch company logo'd on the boom. Did Girard-Perregaux pony up good money to put its name there for eyeballs? Not really. Eyeballs are a bonus to their relationship marketing, enabling their best customers and best employees (like BMW's and Oracle's) to visit the team and share the America's Cup experience. It's quite a ride, believe me. And that too is a lot like what goes on, in and around, Formula 1 (and the Volvo Ocean Race).
This business model is working for the first-ever generation of sports-hero professional sailors (no more money under the table, and they're far removed from those Swedish deckhands that heaved and hauled in the days of yore).
Full story on the Sail website
The AC "paddock" at LV Acts 8 and 9 in Trapani, Sciliy (ITA) last year. Most who were in Trapani felt it was a great set-up, and a blueprint for a new mobile America's Cup.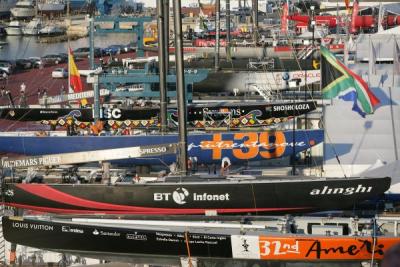 Closer up view of the Trapani paddock. It made for an exciting yet friendlier atmosphere for the sailors, media and spectators alike.